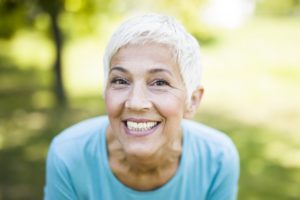 If you're missing one or more of your natural teeth, your dentist has probably recommended dental implants to you at some point. That's because this solution looks and feels almost exactly like your real teeth and can last for several decades. However, it's no secret that dental implants usually cost more than traditional tooth replacements, like dentures and bridges. You might be wondering whether your dental insurance can help with the cost. Here's what you need to know about whether insurance will cover dental implants in Washington, DC.
Does Insurance Cover Dental Implants?
It depends. Unlike many other dental treatments, there's a chance that general medical insurance will partially cover dental implants. Your dental plan may also provide some coverage. In both cases, your level of coverage varies based on the details of your policy.
Dental Insurance
Generally, dental insurance only covers the least expensive way to treat an oral health problem. When it comes to tooth loss, dental bridges and dentures are cheaper than dental implants, as implants require surgical placement from a specialist. As such, traditional tooth replacements are more likely to qualify for dental coverage.
However, that's not always the case. Your dentist's team can look over your plan's details and find out whether it will mitigate some of the cost. In many cases, dental insurance will partially cover other aspects of dental implant treatment, such as sedation used during the surgery or the crown, bridge, or denture that goes on top of your implants.
Medical Insurance
In some circumstances, medical insurance may help pay for dental implants. This typically occurs when teeth have been lost due to:
Trauma, such as a car accident
A medical condition that causes teeth to fall out
Cancer treatment
One or more congenitally missing teeth
Of course, the coverage you qualify for varies based on your individual policy, but medical coverage for dental implants is rare outside of these specific situations.
Why Dental Implants Are Worth the Cost
Dental implants aren't exactly cheap, but it's important to think of them as an investment that will pay for itself in the long run. For instance, they cost more up-front than bridges and dentures, but they can preserve the health of your mouth and jawbone in ways that alternatives cannot. Additionally, other tooth replacements need to be adjusted, repaired, or replaced entirely after only a few years. Since dental implants in Washington, DC can potentially last for 30 years to a lifetime, many patients find them the more cost-effective solution.
If you're unsure whether you can afford dental implants, don't be afraid to reach out to your dentist. They'll handle the paperwork and talk to your insurance company on your behalf while maximizing your benefits, making the process of rebuilding your smile as stress-free as possible!
About the Author
Dr. Yelena Obholz obtained her Doctor of Dental Surgery degree from the prestigious New York University College of Dentistry. Since then, she has completed advanced training in oral surgery, particularly dental implant placement. At Aesthetic and Family Dentistry Specialists, she's in-network with many dental insurance providers, including Aetna, Delta, and Cigna. She also offers CareCredit financing and an in-house savings plan to make your care affordable. To find out whether your insurance covers dental implants, contact Dr. Obholz at 202-364-8989.