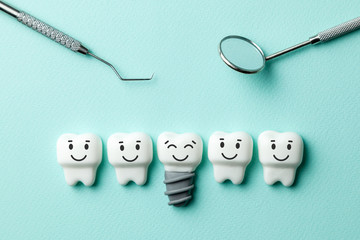 One of the great things about living in the 21st century is the fact that you no longer need to settle for missing teeth. There are all sorts of different options out there when it comes to replacing gaps in your smile. One of the most popular options is dental implants because of their many benefits. You want to make sure that you are choosing a reliable dentist to take on the procedure. But how do you find the best implant dentist? Continue reading so that you know what to look for before you get dental implants in Washington DC.
Experience in Dental Implant Placement Surgery
This may seem like an obvious one, but you want to choose a dentist who is very familiar with the placement procedure and has done it many time in the past. By picking one who has lots of experience in the area, you will feel more confident putting your smile in their hands.
Advanced Dental Training
You are more likely to be happy with the end results of your procedure if you pick a dentist who has received advanced training in the past. Whether this is through prestigious dental institutes or professional organizations, continue education is definitely something that you should be looking for. This way, your dentist's knowledge and skills remain sharp!
Patient Reviews
You wouldn't go to a salon that has horrible reviews, so why would you go to a dentist whose patients had a less than pleasant experience. It pays to see what previous dental implants patients had to say about their experience with their procedure. Check online for a dentist who has detailed, quality, positive reviews. This way, you know that you are in the right place.
Before and After Photos
Dental implants help to restore your oral health, but you want them to look great as well. Ask to see some images of previous patients before and after their procedure so that you have an idea of what you can expect after your implants completely heal. If you like what you see, this is a good sign.
Schedule a Consultation
Before you completely commit to the procedure, you will be able to schedule a consultation with the dentist in question. During this time, you can ask questions that you have and see the kind of environment that the dental team works in.
Dental implants are an investment, so you should choose a dentist that you trust. By considering the factors listed above, you will be able to pick the best dentist to restore your smile!
About the Author
Dr. Yelena Obholz earned her Doctor of Dental Surgery from New York University College of Dentistry and is committed to completing continuing education courses in order to keep her knowledge and skills sharp. Currently, she is enrolled in the prestigious Las Vegas Institute for Advanced Dental Studies. For more information on dental implants or to schedule a consultation at her office in Washington DC, visit her website or call (202) 364-8209.