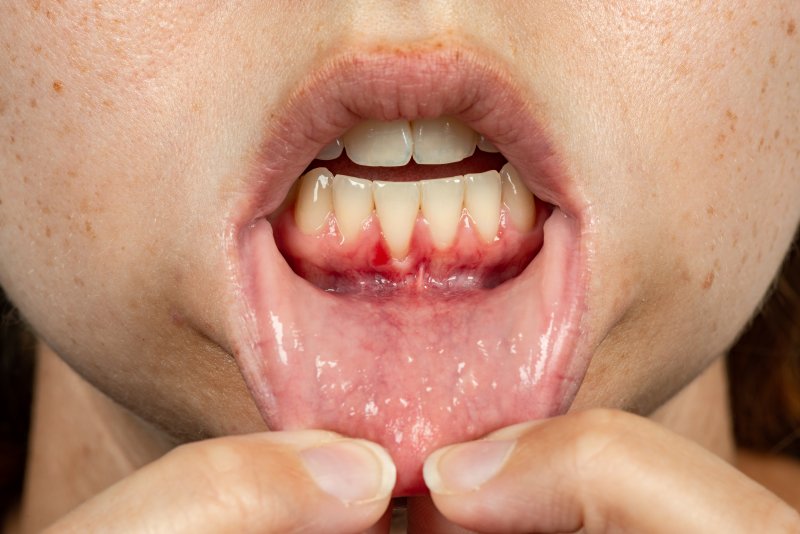 For your entire life you've been told that you need to brush twice and floss at least once a day in order to achieve optimal oral hygiene. However, no one ever told you how hard was too hard when it came to brushing. According to the Wallstreet Journal, dentists estimate that approximately 10 to 20 percent of the population has damaged their teeth or gums from overbrushing. Read on to learn from a dentist about the dangers of brushing your teeth too hard as well as proper brushing technique.
Signs That You May Be Brushing Your Teeth Too Hard
Here are a few signs that you may be using too much pressure when you brush your teeth:
Gum Recession: If you have noticed a change in your gumline, this could mean that you are brushing too vigorously.
Teeth Sensitivity: If your teeth become more sensitive to cold and hot foods and drinks, this means that you could be experiencing gum recession or enamel erosion from overbrushing.
Discoloration Near the Gums: Beneath the gums, your teeth are a darker shade because enamel isn't present. Gum recession from overbrushing can lead to the appearance of discoloration.
How Do You Brush Your Teeth Properly?
When you're brushing your teeth, it isn't about how hard or fast you are scrubbing. Instead, you should focus on being thorough for a long enough period of time. Here are some tips to prevent overbrushing while keeping your teeth and gums healthy:
Always use a soft-bristled toothbrush in order to prevent yourself from damaging the enamel or gum tissue that is holding the teeth in place.
Place the head of your toothbrush with the bristles pointing at a 45-degree angle to the gumline.
Move the toothbrush with short strokes and a scrubbing motion. Don't saw back and forth across your teeth.
Only use enough pressure to feel the bristles against the gums.
You shouldn't be brushing for two minutes, so there is no need to go fast. Spend about 30 seconds on each quadrant of your mouth to ensure that you're being thorough.
Use an electric toothbrush. This is a great way to prevent gum damage because all you need to do is guide the toothbrush over your teeth.
See your dentist for professional cleanings. They will be able to remove any plaque that you have missed.
Brushing improperly can be as harmful as not brushing at all! By using proper technique, you can prevent oral health issues without causing damage to your smile.
About the Author
Dr. Yelena Obholz earned her Doctor of Dental Surgery degree from New York University College of Dentistry and is committed to taking numerous hours of continuing education each year to keep her knowledge and skills sharp. Currently, she is enrolled in the prestigious Las Vegas Institute for Advanced Dental Studies. To learn more about proper oral hygiene or to schedule an appointment at her office in Washington D.C., visit her website or call (202) 364-8209.